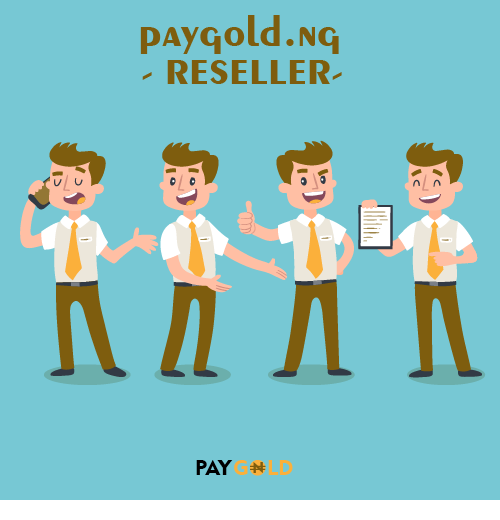 SME Data reseller business explained from A to Z
An SME Data reseller resells data and other virtual top-up services to people around him or customers he could acquire through digital marketing. Everybody uses data, and therefore SME Data reseller uses that advantage of it to generate income for himself.
SME data reseller buys data on paygold.ng and sells it with some profit. But then how does he make a profit. Let us solve some mathematics.
Let us consider an example
Mtn sells 1.5GB data with 30 days validity at 1000 naira. A common man would want to spend lesser on data purchase. A data reseller reduces the price for him and gives it to him at ₦500(in some cases, due to competition, some SME Date reseller reduce their rate to ₦400 )
Data reseller buys 1 GB MTN Data at …… ₦329(basic price) 
sells it at……………………………………………….₦500
makes a profit of …………………………………..₦171( per 1 GB sold)
therefore if you can sell 50GB weekly, You earn ₦8,550 weekly.
Suppose a user chooses to upgrade to a reseller whereby he pays the sum of ₦5000 for an account to upgrade. He will enjoy a discounted price. At that point, he will get 1 GB MTN Data at #309. He can be able to compete with a lot of resellers if he has massive orders. Let us do some mathematics.
Data reseller buys 1 GB MTN Data at …… ₦309(basic price) 
now buys cheaper and chose to sell at ….₦400 (to be able to compete)
makes a profit of …………………………………..₦99 (per 1 GB sold)
therefore if you can sell 100GB weekly, You earn ₦9,900 weekly.
Note that I am not here to determine a price for you, so you choose what works for you. You are not limited to reselling MTN Data. You can also make a profit from reselling other networks Data.
Other Streams of income an SME Data reseller can take advantage of
What is expected of you?
Sign up on paygold.ng 

 Fund your account with a minimum of ₦5,000 and upgrade to a reseller if you choose to upgrade. Note that once you upgrade your account, ₦5,000 will be deducted from your account. Click upgrade to a reseller if you wish to be a reseller.

With a minimum of ₦500, you can start vending either as a customer or a reseller.

Start telling people what you do and start selling. 
How to acquire customers
Some people have some advantages where it comes to data reselling. People ask them to sub for them because they already into the communication business. People who are in the POS business also have an advantage. 
If you have friends on WhatsApp, have a Whatsapp TV, or have a social network account with loyal followers. You can advertise to them and start making money from them. 
At home, workplace, and school, you can make some spare money from this business to solve some problems for you. 
Tip and tricks of becoming a successful data reseller
Avoid debt. Don't let people owe you for more than 24 hours.

Always confirm transactions. Confirm from your customers if they have received the top-up you did for them. Once you process a transaction, tell them you have done it and ask them to confirm if they have received it.

Strangers must pay first before delivery. Your customer paying first before delivery is a good practice.

Try your best to stay online and active because you don't know when your customers will be contacting you.

Never stop marketing and acquiring new customers and always be positive with old customers
Benefits of being a Paygold.ng Data reseller
Customer support. We are always ready to respond to your complaints, request, and support. 

Paygold.ng Provide Resellers Digital banner for digital marketing.

Paygold.ng is not a stagnant platform. We roll out updates weekly, thereby creating more avenues for you to make money.
Fund your paygold.ng account and start making profits from the virtual top business. Paygold.ng also has an app on Google play store that will make accessing their website easy for you. To download the Paygold Android app click here.