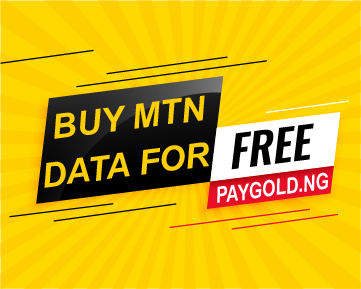 MTN FREE DATA: CHEAPEST MTN DATA OF 2020
MTN FREE DATA 2020  is what we a here to give, only available to MTN Users. At Paygold.ng we are giving free 1GB MTN SME data to everyone who is our customer. This is a promo every one can enjoy. To enjoy the free 1GB Mtn data please use the coupon code below to claim 1GB MTN FREE DATA.
STEPS ON HOW TO USE THE COUPON CODE YOU GOT
Register on paygold.ng if you have not done so.
Add funds to your Paygold.ng account. You can do this by transferring money to the Providus bank account number on your dashboard or you click add funds behind your account balance on your dashboard and proceed with the instructions on the screen.
Next, click on Data from the menu and select MTN network then select 1GB SME data valid for 30 days. Enter the phone number you use for data and click buy now.
On the next page, you are to review your order At the top you will see a notification Have a coupon? Click here to enter your code. Click that notification and enter the coupon code and click apply.
Finally, click place order. At this point, you will receive 1GB MTN DATA.
Enjoy and tell your loved ones to come and get theirs!!!
Paygold.ng is the best site for cheap MTN data and free MTN Data for everyone. With the free MTN data you Got from us, you can use it to watch movies, play online games, and connect with your friends on Facebook and Whatsapp cheap MTN data is always available on Paygold.ng We have the best mega data plans. Our customer support is the best you can think of. We are online 24/7 to serve you better. Buy cheap data from Paygold.ng 1GB for 329 Naira. Valid for Days